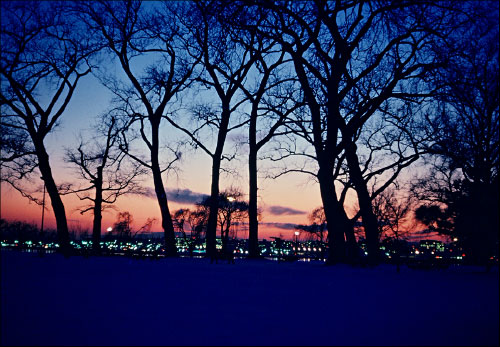 (My second ever blog post, written as I giddily await the season's first snow!)
Now that we've become a city of walkers and neighborhood park explorers, many of us are a little panicked as winter approaches. During the pandemic, we've learned that outdoor DC can be a sweet place to pass the time, especially when indoor options are limited and travel is out of bounds. Rush hour has temporarily lost its rush in our city, but finding a weekend parking spot near any of our popular parks can be a challenge.
As a Vermonter who moved to Washington, I borrowed a saying from a Minnesota friend: "There's no such thing as bad weather, only bad clothes." In Vermont and Minnesota, winter says: bundle up and come on outside! Snowy landscapes offer endless opportunities for enjoying winter sports and contemplating winter light and beauty.
Here in Washington, our landscapes are only intermittently white, and last year we barely had snow at all. However, there's always the seasonal potential for a big coastal storm with snow totals in the double digits offering cross-country skiing in Rock Creek Park and sledding on Capitol Hill. And very occasionally, it's cold enough for ice skating on the C&O Canal.
I asked my friend Dr. Jon Willen, an infectious disease specialist, if it's safe for us to continue spending time outdoors during cold weather and he told me: "There's no reason for people not to bundle up and go outside during winter. The only caveat is that they have to wear masks if they are within six feet of another individual."
Snow or no snow, winter in Washington offers unparalleled beauty to the trained eye. And if you've been walking more than usual for the past few months, your eye is primed. When deciduous trees lose their leaves, the architecture of their branching becomes visible. The wineglass profiles of the American elms on the Mall and the bountiful crowns of the oaks in neighborhood parks are sights to behold against winter skies. Dusted with snow, they are even more magnificent. The bark of our trees also stands out in glorious relief in wintertime: the whitened sycamores lining the Potomac and Anacostia, the "ski track" vertical grooves and ridges of the northern red and scarlet oaks, the shaggy ash-gray bark of the white oaks and silvery smoothness of the American beeches in Rock Creek Park.
If you look closely at winter trees you'll see that many of them bear fleshy or dry winter fruits: the tangy persimmon, so much sweeter after a frost, the whirly-gigging winged seeds or samaras of tulip-tree and boxelder, the dangling round clusters of sycamore achenes and sweetgum capsules. After a snowfall, many of them are visible on top of the snow.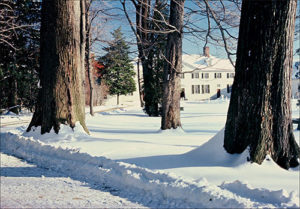 Winter birding is a rewarding pastime in Washington, with the birds of the winter flock easier to see among leafless tree crowns, and many species of ducks wintering on our rivers. Bud-watching can be equally as gratifying. Each woody plant has characteristic buds that are formed during the summer and remain during the cold months until budbreak in late winter or spring. Red and silver maples have fat reddish winter buds that open early, yielding tiny flowers. The terminal buds of the pawpaw look like small paintbrushes and spicebush flower buds are tiny, round, and greenish-yellow. Flowering dogwood flower buds are onion-shaped, held upright against winter skies like miniature church domes. When it comes to our urban canopy, the closer you look during winter, the more you'll see.
Winter light offers endlessly changing beauty. Winter dawns and sunsets can be breathtaking in our riverside city, with our white memorials deepening to pink, our pines inky dark, and our deciduous trees nearly black against the brilliance of a winter sunrise or sunset. And the thing about the light is that there's more of it each day after the solstice on December 21. As the days lengthen, we grow closer to springtime, and this winter, spring's promise is greater than ever.