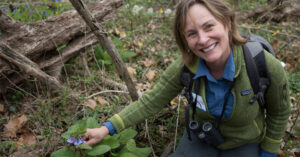 Melanie Choukas-Bradley is a Washington, DC author and naturalist who leads field trips, tree tours and forest bathing walks for the Audubon Naturalist Society, the United States Botanic Garden, Smithsonian Associates, the Rock Creek Conservancy, the Nature Conservancy, Politics & Prose, the Aspen Center for Environmental Studies and other organizations. Melanie's newest book is Finding Solace at Theodore Roosevelt Island, illustrated by Tina Thieme Brown, with a foreword by Dr. Thomas Lovejoy (September 2020). She is also author of  Resilience—Connecting With Nature in a Time of Crisis, with a foreword by Wendy Paulson (May 2020), and The Joy of Forest Bathing—Reconnect With Wild Places & Rejuvenate Your Life, illustrated by Lieke van der Vorst, with Spanish and Finnish translations (2018). Melanie is the author of A Year in Rock Creek Park: The Wild, Wooded Heart of Washington, DC, with photographs by Susan Austin Roth (2014). The book was awarded a 2015 Independent Publishers' IPPY silver medal for mid-Atlantic nonfiction.
Melanie is the author of three other critically acclaimed books: City of Trees—The Complete Field Guide to the Trees of Washington, DC, illustrated by Polly Alexander, with a foreword by Adrian Higgins, and now in its third edition (2008); An Illustrated Guide to Eastern Woodland Wildflowers and Trees: 350 Plants Observed at Sugarloaf Mountain, Maryland, illustrated by Tina Thieme Brown (2004, 2007); and Sugarloaf: The Mountain's History, Geology, and Natural Lore, illustrated by Tina Thieme Brown (2003).
Melanie is also a long-time contributor to The Washington Post and other publications, and she has appeared as an author and guest expert on NPR's All Things Considered, Morning Edition, The Diane Rehm Show, WAMU's The Kojo Nnamdi Show and Senator Bill Bradley's American Voices, Sirius XM Radio. In 2014, Melanie was awarded one of four inaugural Canopy Awards by Casey Trees, for her efforts to educate people about the trees of Washington, DC. A Certified Nature and Forest Therapy Guide, Melanie is a member of the National Advisory Council of the Rachel Carson Council and sits on the Advisory Board of Capital Nature and the Advisory Committee of the Montgomery Countryside Alliance.