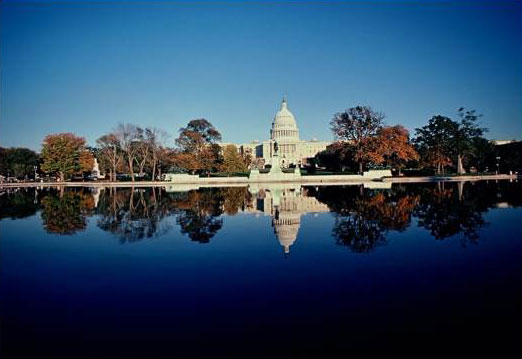 Autumn in Washington. Why are there no songs to celebrate, no poems to commemorate, the poignant pleasures of our long leisurely season of deepening colors and brilliant light? Acorns tapping rooftops, leaves shaking loose and silently sailing free, white throated sparrows returning from the north to serenade us with a song the naturalist Theodore Roosevelt described as "singularly sweet and plaintive."
Washington, founded at the confluence of two rivers bordering the cherished home of the Nacotchtank people, has been known as the "City of Trees" for more than 100 years. Our founders were gardeners and tree lovers, and our parks and gardens reflect the foresight of many careful urban planners, who built the city on an initial spark of wisdom and gained arboreal knowledge through the decades and centuries. Rock Creek Park celebrated its 130th birthday in September, the oldest urban national park in the country and twice the size of Central Park. A forest that has been largely left alone since 1890 hosts a tree community with a lush and continuous canopy and roots connected by a mycorrhizal network carrying nutrients and information from tree to neighboring tree.
In this era of COVID and whiplash headlines, of racial unrest on the cusps of promising change, and election angst, we are all shaken and wondering what will come next. There may be no easy cures for what ails us but there is this — deepening autumn in a city of parks and gardens so lush and beautiful that it is truly an embarrassment of riches.
With our schedules disrupted and our travel horizons limited, many of us have discovered the wonders of our wild backyard — the view from the apartment balcony or the front porch, the neighborhood park or community garden, the simple pleasure of a neighborhood walk under a sky free of constant airplane noise and pollution. We have located the parks with the widest trails and mastered the art of donning our masks as other walkers or runners approach.
We can now look forward to the pleasures of autumn in Washington at the slower, quieter pace to which we've grown accustomed. I am from Vermont, magic kingdom of fall foliage. While Vermont's maples and white birches may put on an unparalleled autumn show, it is a show that is over in the blink of an eye, while here in Washington our fall color goes on and on. From the first reds of the flowering dogwood and tupelo, to the golden hickories, brilliant maples of every hue, oaks of various shades — including DC's brilliant official scarlet oak — our native trees carry us into November on dazzling waves of color. Then as the native trees shed their leaves and display the architecture of their winter forms, the non-native species shine. The brilliant golden ginkgo tree, at first a blazing crown and then a blazing carpet, the nonnative maples, cherries, and magnolias, and then last of all, the Japanese maples, ushering in December with their festive hues.
This may not be the time to fly to Europe or the West Coast, or even commute to work. Let it be the season for settling in, unplugging our electronic devices frequently — or at least periodically — and enjoying the cinematic show that Nature produces for us each autumn in Washington.