Check back soon for more upcoming events.

Autumn Hiking: Sugarloaf Mountain — Smithsonian Associates
November 10, 2022 @ 10:30 am

-

1:00 pm

EST

$55 – $75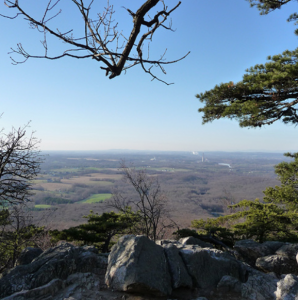 Note: This program has a rescheduled date (originally November 11, 2022).
Natural beauty and fascinating history await this fall. Spend an autumn day hiking to the summit of Washington, D.C.'s local mountain, a natural treasure less than an hour's drive from the city. The picturesque and rocky Sugarloaf offers spectacular views of the surrounding countryside of Montgomery and Frederick counties in Maryland. With color in the trees and fallen leaves on the ground, exciting rural vistas open up.
Guided by popular study leader Melanie Choukas-Bradley, learn about the mountain's plants and wildlife, seasonal changes, geology, and history. Spend time on the summit, composed of pink quartzite and forested with uncommon table mountain pines and mountain laurel, for a light lunch and a bit of "forest bathing."
In addition to the deep dive into the flora and fauna of our local monadnock, get insights into two remarkable preservation stories: Gordon Strong's lifelong mission to save Sugarloaf Mountain from development and keep it open for public enjoyment and education under the administration of Stronghold, a nonprofit corporation, and Montgomery County's innovative 93,000-acre farmland preservation area known as the Agricultural Reserve. Hikers also hear tales about how the Sugarloaf Mountain plans of two of the 20th century's most formidable personalities, Franklin Delano Roosevelt and Frank Lloyd Wright, were thwarted.
Choukas-Bradley spent 20 years living near the base of Sugarloaf in Montgomery County's Agricultural Reserve and has authored two books about the mountain: one about its trees and wildflowers, and the other Sugarloaf: The Mountain's History, Geology and Natural Lore.
Additional Date Options
General Information
Registration for this tour will end by 2 p.m. ET on Monday, November 7, 2022.
The tour meets on site at West View parking lot, Sugarloaf Mountain Drive, Dickerson, MD.
Tour participants must be in good physical condition to hike the steep trail to the summit, which includes a long set of stone steps. Total hike distance is less than 1 ½ miles, and many stops are made en route. Lunch is not included; please pack your own food to enjoy on the summit.
This tour is limited to 20 participants.
For additional tour information:
Please Note: Proof of COVID-19 vaccination is required for participation on all tours; additionally, current CDC and Smithsonian COVID-19 guidelines (at the time of the tour) will be followed.